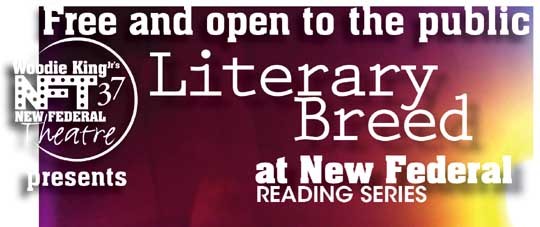 Friday, June 29 - Sunday, July 1, 2007

In honor of Juneteenth and Father's Day, LITERARY BREED takes an overview of past/current/future America through the eyes - and language - of African-American male playwrights including:
Joel Willis
Michael A. Jones
Michael P. Moss
Cheo Jeffery Allen Solder
Ajene D. Washington
and
Jamal Williams

The weekend finale concludes with a book party event celebrating the release of
Twelve Plays and Selected Writings
by award-winning playwright
Ed Bullins
Author of the groundbreaking work, The Taking Miss Janie.

All events are
FREE
and
OPEN TO THE PUBLIC

Donations accepted and encouraged.
Henry Street Settlement's Abrons Arts Center / Recital Hall
466 Grand Street, NYC
For more info on the NEW FEDERAL THEATRE, VISIT:
newfederaltheatre.org
Herb Donaldson /NFT Programs Director:
212-353-1176
Made possible, in part, with support from National Endowment for the Arts, New York State Council on the Arts, NYC Department of Cultural Affairs/New York City Council Committee, Domenic M. Recchia, Jr., Shubert Foundation, Lila Acheson Wallace Theater Fund, Time Warner, Inc., Louis & Anne Abrons Foundation, Lucille Lortel Foundation and contributions from other corporations, foundations and individuals.


F R I D A Y

J U N E 29 TH

A C T O N E

3:00 pm

FINDING EXPRESSIONS

By:

Joel Willis

Joel Willis is a graduate of Hofstra University, where he received his BA in Creative Writing (Specializing in Poetry) and Africana Studies. Currently, besides writing screenplays, an epic story, poetry, stage plays, and editing plays, Joel is in the latter stages of having his boxing program (the first of its kind) implemented into Co-op City's youth athletic programs.

DIRECTED BY:

Herb Donaldson

FEATURING:

Alex Ubokodum

Les Goldberg

SYNOPSIS:

Charles, an educated and outspoken African-American student at Livingston University, finds himself at odds with his Sociology and Terrorism instructor, Professor Weisman, who, himself, is an internally wounded survivor of Auschwitz. Their need to get things out in the open, as well as their need to be understood, raises issues of race and culture that neither of them is sure they will ever overcome.

3:15 pm

JOSH

By:

Michael A. Jones

Michael Jones has studied with Gotham Writers' Workshop; Frederick Douglass Creative Arts Center; Frank Silveras Writers' Workshop; Harlem Screenwriters Workshop; and The Downtown Writers Workshop as well as with the Lincoln Center Director's lab, and New York Film Academy. His plays include: It Takes a Village to Raise…Hell, The Josh Gibson Story, Soiled Wings, Family Matters, Scorcher, and One Love. His screenplays include: Where's the Beef? Love and Bondage, Hind Sight is 20/20, and Annie's Revenge (based on Antigone).

FEATURING:

Victor Dickerson

Chudney Sykes

Althea Vyfhuis

Scott Williams

Daren Taylor

SYNOPSIS:

The story of a Negro League baseball player whom some say died of a broken heart. Although his good friend and legend pitcher, Satchel, tries to shed light on the business of baseball, Josh is determined to make it into the "big leagues" and show the world he can rival the greats, such as Babe Ruth and Joe DiMaggio.

5:00 pm

A SIMPLE SONG

By:

Michael P. Moss

Michael P. Moss,

a native of Washington, D.C., recently received his Masters in Fine Arts (MFA) degree from the City College of New York. His staged readings include: Blind and Not Long to Stay Here at the Schomburg Center in Black Culture; both directed by Kim Weston-Moran. Not Long...received a staged reading reading at the 2005 National Black Theater Festival in Winston-Salem, N.C. Mr. Moss' 10-minute work has been featured in NFT's

Scene@NewFederal

showcase

DIRECTED BY:

Kim Westin Moran

FEATURING:

Marjorie Johnson

Erwin A. Thomas

Roderick Warner

SYNOPSIS:

In this exploration of the issues surrounding drug abuse and its toll on the family structure, Allen, a lawyer, finds himself at a crossroads when his brother Andre, a recent prison parolee, comes home. With the freedom to understand each other as brothers before them, they, along with their mother, must finally confront the family secrets that have imprisoned them all for so long.

7:00 pm

One4DeBrovahs

Written and Directed by:

Cheo J.A. Solder

Cheo J. A. Solder: After a twenty plus year hiatus from the creative scene, the author, Cheo Jeffery Allen Solder has re-emerged with a vengeance as a writer, poet, musician, spoken word performance artist, screenwriter and playwright. In an attempt to explain his silence as an artist, he merely says: "Life." and to explain his reawakening he says: "It's about time". He is from Los Angeles, California.

FEATURING:

Claude Del

Eric Daley

Pamela Lambert

David Curtis

Gaetane Joseph

OLUGUN (Music Ensemble):

Frank Wilkins

Johan Narsjo

Karen Kocharyan

Arvin Zarookian

SYNOPSIS:

A love letter written for the brothers and sisters, born and unborn sons and daughters of the author's biological and spiritual family. It is about manhood and womanhood: how to get there, how to stay there and how to grow beyond it to humanhood.

S A T U R D A Y

J U N E 30 TH

A C T T W O

Kermit Frazier's

KERNEL of SANITY

HAS BEEN POSTPONED UNTIL A LATER DATE

DIRECTED BY:

TBA

FEATURING:

TBA

5:00 pm

ALMOST SEPTMEBER

Written and Directed By:

(Ajene) D. Washington

(Ajene) D. Washington is a playwright, actor, director, set & lighting designer who resides in Bronx, NY. He received a B.S. degree from Lincoln University and a M.A. from Northern Illinois University. He has directed and performed with a number of companies throughout the US.

As an actor his work includes The Michael Jordan Story, Naked Acts, One Life to Live and Law & Order SVU.

Plays that Mr. Washington have written include: Lay to Rest, Otis' Song, Swing, Days of a Drunken Crow, Six O' Nine, Come Back Sweet, Sunday Afternoon, and Terrance's Bounty. He has received an AUDELCO Award for Best Director and Best Set Design, also a nomination as Best Actor. He was nominated for Best Set Design by Lucille Lortel committee. He is a member of AEA, SAG, SSDC, and The Dramatist Guild.

FEATURING:

Micki Grant

Charmae Monisse Theisz

Zeb Hollins

SYNOPSIS:

The quiet tale of two women: a retired historian and the young graduate student she mentors in a small mid-western college town. Today, their relationship changes forever when a mysterious man arrives at their door.

7:30 pm

Is You Is or Is You Ain't

Written and Directed by: Jamal Williams

Jamal Williams is a novelist, short story writer, playwright and screenwriter with a Master of Creative Writing from The University of San Francisco at San Francisco.

He is presently the Artistic Director of The NYC Downtown Playwrights Workshop.

He co-founded the Harlem Screen Writers Workshop.

He was a Charter Member and former Executive Director of The Buriel Clay San Francisco Black Writers Workshop, and Playwright-in-Residence of The Lorraine Hansberry Theatre Company (1989-1992).

He is a winner of the San Francisco Bay Guardian 1st Playwriting Competition for Best Full-Length Play, 1991 ("Is You Is or Is You Ain't").

His first novel, entitled Where Dark Things Hide, is an urban science fiction and horror novel.

Jamal is a member of the Frank Silvera Writers Workshop and had a new play read in the Playwright Series of the 2001 and 2003 National Black Theater Festival in Winston-Salem, North Carolina.

FEATURING:

Pamela Monroe

Nadhege Ptah

Iris Williams

Taqiyya Holden

Erwin A. Thomas

D.K. Bowser

Michele Baldwin

Victor Dickerson

SYNOPSIS:

After World War II, victorious soldiers came home while newly liberated women had to give up their jobs and return to being mere housewives. Many black women escaped the South in the War years and had vowed never to return. Olivia Pondexter breaks the mold and returns to "rescue" two sisters. Not only does she bring with her a hatbox full of money, she finds herself haunted by the spirit of what she has shamefully tried to forget.

S U N D A Y

J U L Y 1 ST

A C T T H R E E

3:00 pm

BOOK PARTY @ New Federal presents:

Ed Bullins: Tales of a Literary Gangster



Phylicia Rashad



Ruben Santiago-Hudson



Roscoe Orman

Featured Guest Readers include:

Phylicia Rashad

Rueben Santiago-Hudson

Roscoe Orman

George Lee Miles

Elizabeth Van Dyke

Kaci Fannin

and Richard Wesley

ED BULLINS latest book Twelve Plays and Selected Writings brings together not only the plays, fiction, and essays of one of the most important playwrights in the U.S., African-American, and world dramatic traditions, but highlights the journey of a most crucial figure during the Black Arts Movement of the '60's and '70's.

ABRONS ARTS CENTER /

The RECITAL HALL

466 Grand Street

NYC 10002

Arts Center Phone:

212-598-0400

(Press O for Oprator)

SUBWAY
The F train to East Broadway or Delancey
The D, B or Q trains to Grand Street
The J or M trains to Essex Street

BUS

M15 to Grand Street

M22 to Montgomery Street

M9 to Grand Street

M14 to Grand Street

B39 to Essex

CAR OR CAB
Take the FDR Drive southbound and exit at Grand Street.

Northbound FDR does not have an exit for Grand or South Street. Use the Houston Street exit.

There are several reasonable car services in the area that can be used for a return trip.


PARKING
Parking lots are available on Suffolk Street between Broome and Delancey; and East Broadway and Clinton Streets.

NEW FEDERAL THEATRE:

212-353-1176

Herb Donaldson /

Programming Director